Vintage Guitar magazine Mechanical Requirements
Vintage Guitar is the largest magazine dedicated to those who love the great guitars of yesterday and today. Each monthly issue contains features on collectible instruments, great collections, interviews with players, technical articles, brand and model histories, product reviews, and much more. Each issue also has over 300 ads from dealers and manufacturers from all across the U.S. and from overseas. That means Vintage Guitar advertising works! And it's very affordable. Over 65,000 issues of VG are distributed each month to subscribers, musical instrument stores, large book chains, newsstands, and events. With an average of 1.9 readers seeing each copy of the magazine, your ad is exposed to almost 130,000 people – every one is a potential customer!
"We have been advertising in Vintage Guitar for more than a decade. Its content and demographic is the right target for our advertising needs, the staff is knowledgeable, and their guidance is valuable in finding the appropriate audience. When it comes to selling vacuum tubes, we need to get right to the musician, and VG does that." – thetubestore.com
Size
Width × Height • Page size: 9" × 10.875"
Includes 0.125" bleed all around
2 Page Spread
18.25" × 11.125"
Yes
Full Page
9.25" × 11.125"
Yes
2⁄3
5.1875" × 9.875"
No
2⁄3
5.9375" × 11.125"
Yes
1⁄2 Vertical
3.8438" × 9.875"
No
1⁄2 Vertical
4.5938" × 11.125"
Yes
1⁄2 Horizontal
7.875" × 4.8438"
No
1⁄2 Horizontal
9.25" × 5.5938"
Yes
1⁄2 Standing
5.1875" × 7.3594"
No
1⁄2 Standing
5.9375" × 8.1094"
Yes
1⁄3
2.5" × 9.875"
No
1⁄3
3.25" × 11.125"
Yes
1⁄4
3.8438" × 4.8438"
No
1⁄6
2.5" × 4.8438"
No
1⁄8
3.8438" × 2.3281"
No
1⁄16
3.8438" × 1.0703"
No
Showcase Vertical
2.5" × 4.625"
No
Showcase Horizontal
5.1875" × 2.2292"
No
Take action today! For pricing info and more, simply submit the form below!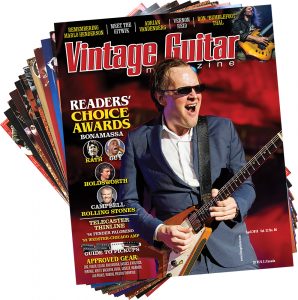 Graphics*
Logo Design, Ad Design, Special Requirements $50/hr.
Photo Effects (silhouettes, drop outs) $20/ea.
*Does not apply to camera-ready ads
Materials and Standard Policies
• Line Screens- 110 for black and white, 133 for inside full-color glossy pages, and 150 for cover glossy pages.
• Four columns to a page.
• One column width 2.5"
• Two column width 5.1875"
• We accept:
  .jpg 300 ppi at actual size of ad.
  .tif 300 ppi at actual size of ad with or without zip compression.
  .pdf Please embed all fonts (or subset 100%).
    No OPI.
    Resolutions on color/grayscale images should 300 ppi at actual size and monochrome images 1200 ppi at actual size.
    Use Zip compression when available for color/grayscale images and CCITT group 4 compression for monochrome.
    No cropmarks or registration. The PDF should be the same size as mechanical requirements above.
Payment must accompany materials.
Frequency discounts will be applied after advertising agreement is signed and returned to Vintage Guitar.
Cancellations or changes in orders must be in writing and will not be accepted after the 15th of each month.
Display ads are not commissionable.
By placing an ad with Vintage Guitar magazine, the advertiser or its agency, if any, jointly and severally agree to indemnify and hold harmless Vintage Guitar Inc. against any liability including expense resulting from claims or suits based upon the content or subject matter of the advertisement, including but not limited to claims or suits for libel, violation of rights of privacy, plagiarism, copyright or trademark infringement, or unauthorized use of name, likeness, statement or work of any person.
Vintage Guitar readers have real buying power – much more than just internet "views."

Print and Social Media Readers
Our Readers' Stats
Magazine Readership
 65,207
Facebook
 487,000
Instagram
 40,600
Twitter
 13,000
Website
 110,000 uniques monthly
Average age
 53
• Level of Playing
  Pro: 10.3%
  Semi-Pro: 18.6%
  Experienced: 38.3%
• 47.6% of Vintage Guitar readers report a household income of more than $100,000 per year!
• 77% refer to the magazine when making buying decisions.
• 83% plan to buy one or more guitars this year.
• More than 54% plan to buy one or more amps in the next year.
• 83% purchase pedals.
• 56.8% own basses.
• VG readers will spend more than $63 million on new gear this year!