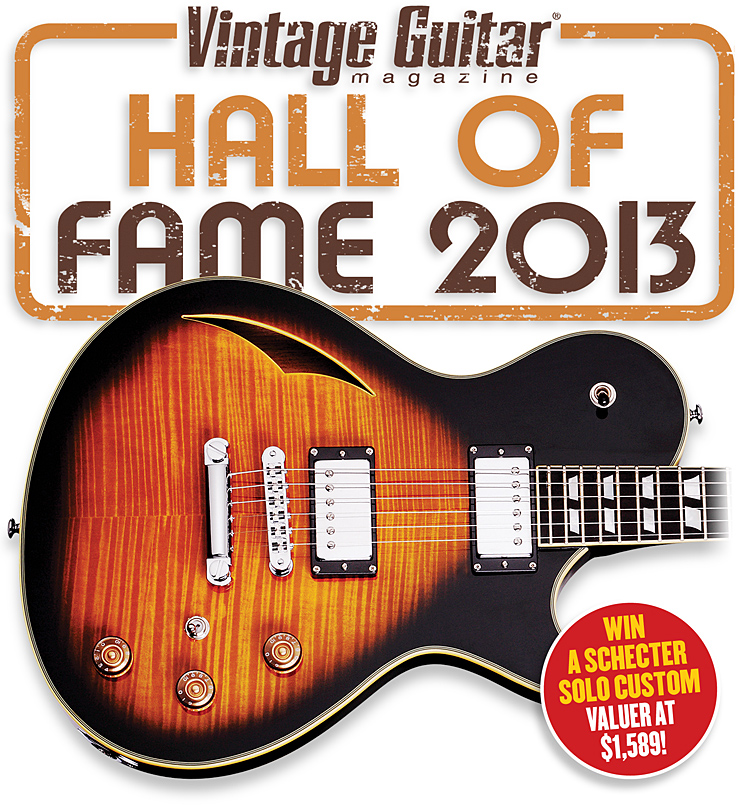 Vote Now in the Vintage Guitar magazine Hall of Fame 2013
Each year, Vintage Guitar magazine honors those who inspired and awed us as guitar players, fans, and listeners by inducting the truly great players, innovators, and instruments to the VG Hall of Fame. We'll also choose Album of the Year.
Nominations are solicited from contributors and visitors to VintageGuitar.com, then a list of finalists is compiled with input from VG staff. So, please take a minute to vote here or online for an Instrument, Innovator (chosen for their efforts designing instruments or for their influential playing style), album, and two players. Submitting your ballot will enter you in our Hall of Fame giveaway and a chance to win a Schecter Solo Custom E/A DVS guitar!
Deadline for entries is November 12, 2013. The contest is open to everyone, but void where prohibited. New inductees and contest winners will be announced in the March '13 issue.
---
Players

Duane Eddy The progenitor of the thick, bassy, reverb-laden twangy guitar sound, he employed it masterfully using his Gretsch 6120 on a string of melodic instrumental hits (including "Rebel Rouser" and "Peter Gunn") in the late 1950s/early '60s. He later went on to become a music producer and is an inductee of the Rock and Roll Hall of Fame as well as the Musicians Hall of Fame.

Edward Van Halen His supernatural talent blended with a host of influences both popular and obscure to form an amalgam of unique sounds. His playing spawned the era of the rock-guitar superhero before the words "tapping" and "dive bomb" were part of the rock-guitar vernacular.

Danny Gatton His uncategorizable playing style meshed country, rockabilly, and jazz. Dubbed "The Humbler" he honed his chops in clubs in his hometown Washington, D.C. area (including in his own Redneck Jazz Explosion band, where he traded licks with steel-guitar legend Buddy Emmons) before being noticed by bigger names in the business including Les Paul and Eric Clapton. In 1990, he was nominated for a Grammy for Best Rock Instrumental Performance for the song "Elmira Street Boogie."

Scotty Moore As a kid, he listened to jazz and country music, and was influenced by Chet Atkins. In 1954, producer Sam Phillips teamed him with bassist Bill Black and a young singer named Elvis, and together – with the help of Moore's hollowbody Gibson – they cranked out a few rockabilly tunes that caught fire. He has also worked as a music producer and is an inductee of the Rock and Roll Hall of Fame and the Rockabilly Hall of Fame.

Wes Montgomery One of heaviest of jazz heavyweights, he gained acclaim for his unique picking style, which relied primarily on his thumb while he created very melodic single-string runs. More known for his use of octaves to build dramatic solos, he has been preeminently influential, cited by players including George Benson, Kenny Burrell, Steve Howe, Pat Martino, Pat Metheny, Lee Ritenour, and even non-jazzers like Jimi Hendrix.
---
Innovators
Bob Taylor The acoustic-guitar company he co-founded in 1974 (and now bears his name) was a pioneer in the use of computer technology in guitar-building, and made its mark with low-profile bolt-on necks that could be custom-shaped and allowed for quick, easy adjustment.
James D'Aquisto He was 17 when master luthier John D'Angelico invited him to sweep floors in the shop while also learning to craft guitar parts. His keen interest led to an apprenticeship, and after D'Angelico's death in 1964, D'Aquisto began building guitars that pushed the boundaries of instrument design beyond the traditional archtop aesthetic.
Roger Mayer An electrical engineer who worked with the British navy, in the early '60s he began creating equipment for top-tier U.K. bands, including guitar effects like a fuzz pedal used by Clapton and Beck in the Yardbirds. A few years later he met Jimi Hendrix, who (of course) had ideas for a fuzz tone all his own; the Octavia was born. In the years since he has continued work in the field of recording-studio electronics and in 2000 was nominated for a Technical Grammy.
Ernie Ball After noticing that beginning guitarists taking lessons in his store had trouble bending the wound G strings in popular sets of the day, in the early 1960s he contracted with a string manufacturer to create the Slinky line with a "plain" G. An enormous success, they helped him create a musical empire that later included Music Man instruments.
---
Instruments

Epiphone Casino The budget version of Gibson's ES-330, the Casino is a true hollowbody with chrome-covered P-90 pickups. Though louder and brighter than the 335, its lack of the center block makes it more prone to feeding back. Its big break came when Sir Paul (McCartney) scored a used one in the mid '60s before the other Beatles asked the company for a few. Today, Epi makes several versions.

Gibson Firebird Fiercely battling Fender for market share and hot off the "failure" of its Les Paul guitar, Gibson asked car designer Ray Dietrich to draw up an instrument with a flashy shape, to which they added funky "banjo" tuners, spankin' new mini-humbucker pickups, car-paint finishes, and four dress options ranging from simple (I) to full-on (VII).

Hamer Standard A base model when Paul Hamer fired up his pioneering boutique guitar company in the early '70s, it was one of two models that helped establish the company that became renowned for its high-quality construction and its penchant for tweaking traditional designs.

Fender Champ Direct descendant of Leo's first commercially available amp (the Champion), the smallest and simplest Fender paved a path to greatness. By 1955, it assumed its most acclaimed form (5E1 in amp-geek code), dressed in tweed and with "TV front" with oxblood grillecloth, it boasted five watts of output through a 6″ speaker.
---
Albums

Gary Clark, Jr., Blak And Blu Fresh and uncontrived, it draws from the best in African-American music and serves as the common denominator/spiritual glue that reinforces his music without superficiality. With one foot in the present and one in the past, Clark mines dirty Austin blues, '60s psychedelia, R&B, rock, pop, and hip-hop. It makes for good art.

Mudhoney, Vanishing Point The garage-fuzz-psych juggernaut's first platter of trademark snarl and razor-sharp wit in five years. Arguably the best of their storied 25-year career, it proves Mudhoney still does what they do because they enjoy being around one another.

Mark Knopfler, Privateering Inspired songwriting and guitar playing highlight the most far-ranging album of Knopfler's career. For guitar fans it's pure bounty, with electric, slide, resonator, and acoustic guitar laying down sea shanties, Celtic folk songs, country and electric blues, Americana, and even good old rock and roll.

Tommy Emmanuel and Martin Taylor, The Colonel and the Governor Two of guitardom's greatest solo acts – Taylor in jazz, Emmanuel in his mix of country, blues, and rock (also adept at jazz). Here they weave in, out, and around each other in an unaccompanied spontaneous set of jazz standards and originals played at the highest level.

Jon Herington, Time on My Hands A monster guitarist, but who knew he was such a good songwriter? Great songs in a variety of genres, short and succinct solos, and vocals to match the lyrics make this one of the best albums not just of the year, but of the past decade.
---
*ELIGIBILITY. VOID WHERE PROHIBITED OR RESTRICTED BY LAW. NO PURCHASE NECESSARY.
Prizes are not transferable or assignable and they are not redeemable for cash. All winners outside the continental United States are responsible for shipping costs. All winners are responsible for the payment of any and all taxes and/or licenses and/or other related local, State, Federal fees that may apply to such winnings. Taxes on prizes are solely the responsibility of the winners. Vintage Guitar magazine reserves the right to replace the advertised prize(s) with a prize of equal or greater value if the advertised prize(s) is/are no longer available.
This content is restricted to site members. If you are an existing user, please login. New users may register below.