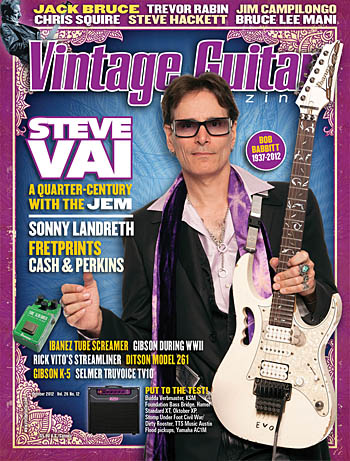 Steve Vai depends mostly on the guitar to capture the notes and music that constantly flow through his brain. We talk with him about that and his long-lived signature Jem guitar by Ibanez. Speaking of highly original guitars, we also sit with Rick Vito to discuss how he designed the Streamliner guitar in the mid '80s. Then, git-tar grad school is back in session, thanks to our George Gruhn and Walter Carter dissertation on the Gibson K-5, Michael Wright's thesis on the Oliver Ditson Model 261, Michael Dregni's essay on the Ibanez Tube Screamer, and Dave Hunter's A+ termer on the Selmer TruVoice TV10! And we're not even close to done; A.R. Duchoissoir documents how, despite common perception, Gibson shipped thousands of instruments during World War II, with previously untold details and figures.
We talk new music with Sonny Landreth, Jack Bruce, Trevor Rabn, Jim Campilongo, Chris Squire and Steve Hackett, and Bruce Lee Mani, then recall the life of Bob Babbitt.
And of course, we once again offer a professional look at great new gear, including the new Budda Verbmaster, KSM Foundation Bass Bridge, Hamer Standard XT, Oktober XP, Stomp Under Foot Civil War/Dirty Rooster, TTS Music Austin Flood pickups, and the Yamaha AC1M!
---

Steve Vai
Uncategorizable, Cont'd
A modern virtuoso whose primary instrument happens to be the electric guitar, his work transcends the common perception of the rock player. Trying to figure out where in his brain it all comes from is nigh impossible – and not just from the outside! We speak with him about his latest album, his guitar collection, and the staying power of the axe he designed with Ibanez. By Ward Meeker
Gibson in the Mid '40s
The Untold Story, Part One
Contrary to conventional wisdom, Gibson shipped thousands of instruments during World War II. Here, we document production from 1942 to '44, with previously untold details and figures. By A.R. Duchoissoir
The Gibson K-5
Gibson's Style 5 instruments are famous for the elements incorporated by Lloyd Loar, which set standards for design and construction. The instrument that underwent the most radical change to become a Style 5 was neither the mandolin nor the guitar; it was the mandocello. By George Gruhn and Walter Carter
The Oliver Ditson Model 261
Ditson sold the first dreadnought guitars, made for them by the C.F. Martin Company in 1916. The company deserves credit as a significant early U.S. music publisher – the Johnny Appleseed of American guitarmaking, as represented by this instrument. By Michael Wright
Rick Vito's Streamliner
Guitarists dream of having an instrument built to their specs, with that perfect feel and sound. Rick Vito realized this dream in the mid '80s, when he helped create this unique instrument. By Willie G. Moseley
The Selmer Truvoice TV10
Selmer was a force in the British music industry well before Vox was a glimmer in the eye of Tom Jennings, and several of its amps from the '60s gained wide recognition. This early bird is utterly fascinating and has earned its due in the annals of tube tone. By Dave Hunter
The Ibanez Tube Screamer
Thanks in large part to Stevie Ray Vaughan, this little green box has become one of the most widely used and beloved effects of all time. But it was not a hit upon its debut. By Michael Dregni
---

Reader Mail
News and Notes
Shedd Institute Establishes November Scholarship; Duffy, Cult Get Bus Scare; CME's Alex Chadwick Goes Viral; In Memoriam, More!
Sonny Landreth
Taking an Elemental Journey
By Michael Dregni
Jack Bruce
A Toast to Tony Williams
By Willie G. Moseley
Ask Zac
By Zac Childs
Bob Babbitt
1937-2012
By Dan Forte
VG on Facebook
Squackett
Prog-Rock Icons Converge
By Oscar Jordan
Trevor Rabin
A Return with Jacaranda
By Oscar Jordan
Bruce Lee Mani
Bangalore Rockin' the U.S.
By Lisa Sharken
Jim Campilongo
Dedicated to the Telecaster
By Michael Dregni
---

Vintage Guitar Price Guide
Builder Profile
Acoustic Remedy Cases
Dealer showcase
Vintage Guitar Classified Ads
Dealer Directory
Readers Gallery
---

The (Way) Back Beat
The Fretted Summer of '42
By Peter S. Kohman
Q&A With George Gruhn
Acousticville
The Unkindest Cut
By Steven Stone
Fretprints
Johnny Cash and Luther Perkins
By Wolf Marshall
---

Dan's Guitar Rx
Flotsam Fever
By Dan Erlewine
Shop of Hard Knocks
Making a Bias-Current Checker
By Will Kelly
---

The VG Hit List
CD and DVD Reviews: George Harrison, Jerry Reed, Jerry Douglas, Los Lobos, Squier Electrics: 30 Years of Fender's Budget Guitar Brand, more!
Check This Action
"Country Instrument," Eclectic Mix; "Rock Instrument," Country Faves
By Dan Forte
Vintage Guitar Gear Reviews
Budda Verbmaster, KSM Foundation Bass Bridge, Hamer Standard XT, Oktober XP, Stomp Under Foot Civil War/Dirty Rooster, TTS Music Austin Flood pickups, Yamaha AC1M
Gearin' Up!
The latest cool new stuff!