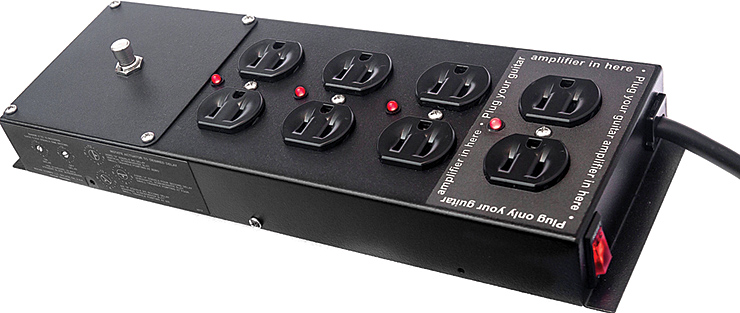 Register to become a member for your chance to win online prizes! Click on the "Sign Up Now!" link at the top of the page. If you are already a member, log in at the top of the page.
---
Log on and register for a chance to win a Rockn Stompn Sequential Power Strip valued at more than $300!
The ROCKN STOMPN Model RS‐4 foot‐activated sequential power strip is the first, the original, the ultimate sequential power strip designed specifically for the serious musician—primarily for guitarists, to be used onstage or in the studio.
It is designed to power up or down an individual musician's set of gear or equipment, as a group, in the proper sequence, every time.
Sequentially powering equipment up and down is ALWAYS necessary in audio systems due to low level amplifiers often contained in loopers, mixers, and equalizers, and special effects components commonly called stomp boxes or pedals used in series between your guitar and power amplifier.


For more information on Nano Distortions go to www.rocknstompn.com.
---
---
*ELIGIBILITY. VOID WHERE PROHIBITED OR RESTRICTED BY LAW. NO PURCHASE NECESSARY.
Prizes are not transferable or assignable and they are not redeemable for cash. All winners outside the continental United States are responsible for shipping costs. All winners are responsible for the payment of any and all taxes and/or licenses and/or other related local, State, Federal fees that may apply to such winnings. Taxes on prizes are solely the responsibility of the winners. Vintage Guitar magazine reserves the right to replace the advertised prize(s) with a prize of equal or greater value if the advertised prize(s) is/are no longer available.
---
---
See previous winners!!
---
To Enter the Giveaway, just complete the survey below (must be a registered member of VintageGuitar.com).
This content is restricted to site members. If you are an existing user, please login. New users may register below.