Category: Miscellaneous Wanted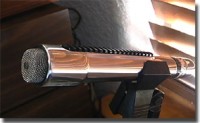 I'm looking for an Electro Voice 676 Microphone. It can be either chrome or gold. Must be in a great...
10/22/2014
Total views: 155
Price: $0.00
I need two 1930's to 40's Gold Kluson Sealfast Tuners. One treble and one bass side. I am willing to...
08/31/2014
Total views: 142
Price: $0.00
Looking for full matched set of 1970 Gibson Les Paul Custom knobs. Black witch hat with gold inserts. Thank you....
12/12/2013
Total views: 234
Price: $0.00