Category: Basses For Sale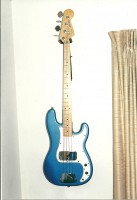 '78 Jazz bass neck, bound maple board with dot inlays, mated to a late '80's Lake Placid Blue Precision Bass...
02/18/2014
East Lansing
Michigan
Total views: 34
Price: $900.00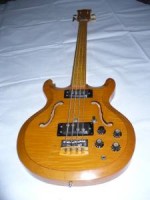 Hohner-Bartell Fretless Bass Late 1960's ( Paul Barth Design ) Black Widow Model Double Cut-Away & Double F-Holes Semi-Hollow Construction...
02/17/2014
97008
Oregon
Total views: 52
Price: $1,250.00
Body refinished in black, neck natural, both nitro. Replaced pots and control plate. All else is good to go. Fantastic...
01/18/2014
Joliet
Illinois
Total views: 71
Price: $7,500.00
Excellent condition; second owner; OHSC; Neck and frets are near perfect....
01/07/2014
Egg Harbor Township
New Jersey
Total views: 13
Price: $1,700.00
left handed 1977 Yamaha broad bass 1200...neck thru emg pickups...36 years old great player great tone straight neck great action..serial#001096...
01/04/2014
rochester
n.y
Total views: 17
Price: $850.00
Cherry Red, Made in Italy #317684. Excellent condition, second owner. Pictures available....
12/25/2013
Egg Harbor Township
New Jersey
Total views: 13
Price: $1,700.00