Category: Repairs
Sentell Pickups Electric guitar and bass pickup rewinding/restoration services. Most single coil pickups just $50, most humbuckers $80. www.sentellpickups.net...
03/02/2015
Total views: 11
Price: $0.00
Pro Repairs and Set Ups on most brands. Same Day Service Available! Why Pay Hacks! No Games, Estimate Given on...
02/01/2015
Total views: 89
Price: $0.00
Sounder Studios provides vintage guitar restorations in the Greater NYC and Philadelphia areas. We are a full service shop handling...
01/06/2014
Total views: 241
Price: $0.00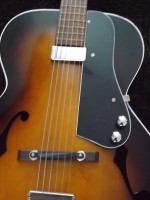 Custom Pickguards With or Without Pickup and Controls OR Piezo System without Preamp and Passive Tone Control That Works! Vintage...
12/10/2013
NY
Melville
Total views: 364
Price: $149.99