Category: Mandolins and Ukuleles For Sale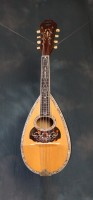 Very Rare and Ornate 1902 C.F. Martin #7 mandolin. Brazilian Rosewood 42 Fluted Ribs bound in Ivory, Wide Pearly and...
12/07/2013
phoenix
arizona
Total views: 7
Price: $4,900.00
Weymann & Sons Model 20 Mandolute branded for Wurlitzer. Dated to between 1915 - 1925. This instrument is in remarkably...
10/12/2013
Monroe
NC
Total views: 197
Price: $750.00
For Sale: Tacoma M3 Mandolin, sunburst, small ammount of finish lifting but otherwise in excellent, condition, ohsc....
02/18/2013
Pelkie
Michigan
Total views: 263
Price: $450.00
For Sale The Gibson MB4 from the 1920s. Needs a tuning peg and a good cleaning and some new strings......
11/02/2012
Total views: 399

These are fairly rare. They were sold to music stores in the 1950s in the same wholesale catalog as the...
09/26/2012
Evansville
IN
Total views: 365
Price: $160.00
For sale is a 1930s Japanese "No-Name" Bowl Back Mandolin. This mandolin's neck is straight, the intonation is good, and...
06/23/2012
Brooklyn
NY
Total views: 658
Price: $250.00
Rare surf era walnut Swaggerty double neck Kook A La Lee. Has black nylon strings (not sure if they are...
06/16/2012
Middleburg
Florida
Total views: 752
Price: $1,000.00
Rare Double neck walnut finish Swaggerty Kook A La Lee and Weber Banjouke. Kook A La Lee has black nylon...
06/16/2012
Middleburg
Florida
Total views: 459
Price: $1,100.00
This mandolin definitely lives up to its "Masterbilt" designation... The build quality is easily on par with equivalent Gibsons from...
05/23/2012
Evansville
Indiana
Total views: 736
Price: $1,200.00
Description: 1917 Gibson H-2 Mandola in sunburst finish. Cosmetic Condition: Excellent condition overall with just a few minor nicks &...
11/06/2011
Brookfield
WI
Total views: 622
Price: $3,900.00
Vintage original Old Kraftsman (made by Kay) Florentine mandolin at a crazy low price. The instrument is in excellent condition...
09/22/2011
Manassas
VA
Total views: 1557
Price: $219.99
This Banjo was made by the old Schafer Piano Company on the west coast sometime around the early 1970\\\'s. It...
08/31/2011
Indianapolis
Indiana
Total views: 904
Price: $875.00
1913 Gibson K2 Mandocello Serial #15766. Black face. Mahogany neck, back & sides. Inlaid oval sound hole. Pearl fleur-de-lis on...
03/11/2011
Total views: 1779
Price: $3,750.00
Very unusual alternative to a normal Mandolin, this example has a cool double cutaway body made of a Spruce Top...
03/09/2011
Total views: 958
Price: $850.00