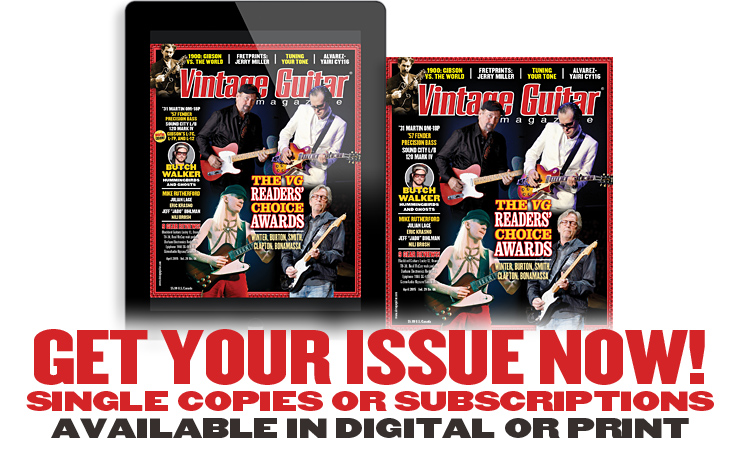 In this issue… We announce inductees to the VG Hall of Fame and winners of our Readers' Choice Awards. Learn why James Burton, Johnny Winter, Joe Bonamassa, Randall Smith, the Fender Princeton and Eric Clapton and Friends' The Breeze: An Appreciation of J.J. Cale all gained honors. We also interview renowned performer/producer Butch Walker, whose new album is laden with haunting, vintage tones helping render its gritty folk, pop, and rock. George Gruhn studies a Martin plectrum guitar from the 1930s, Willie Moseley takes a look at Fender's '57 Precision Bass, Peter Kohman looks at Gibson's competition in the days of the Master Models, Dave Hunter tells why the Sound City L/B 120 Mark V was nearly ubiquitous in London in the early '90s, and Michael Wright explains why the Alvarez-Yairi CY116 pioneered a non-traditional approach to the classical guitar. We talk new music and the latest goings-on with Mike Rutherford, Eric Krasno, Jeff "Jabo" Bihlman, Nili Brosh, Ellen Harper, and Julian Lage. Dan Erlwine puts the wraps on his kit-guitar upgrade, Will Kelly walks us through an electronics upgrade on an electric guitar, and Wolf Marshall breaks down the story and a few licks of Jerry Miller. Our gear-review staff digs into Blackbird Guitars' Lucky 13, the Orange TH-30, Real McCoy wah pedals, the Durham Electronics ReddVerb, Epiphone's 1966 SG-400 PRO, and the GizmoAudio Ripsaw/Sawmill Jr. pedals, while our music gurus offer their thoughts on the latest offerings by Jimi Hendrix, AC/DC, Jeff Beck, The Mavericks, Steve Earle, Deep Purple, and others.
THREE GREAT WAYS TO GET A SINGLE COPY
1. NEWSSTAND Find the current issue of Vintage Guitar magazine at Barnes and Nobles or your favorite music store (if they don't carry VG, demand that they do!)
2. ORDER A PRINT COPY CLICK HERE to order a print copy of VG, delivered to your door.
3. iTUNES DIGITAL SINGLE COPIES CLICK HERE to download our app for your iPhone or iPad, and purchase the current digital issue!
TWO GREAT WAYS TO SUBSCRIBE
1. SUBSCRIBE FROM VG DIRECTLY Enjoy SUPER SAVINGS on a one-year subscription to VG. When ordering directly from VG, you will enjoy access to all four digital formats – Apple, Android, Kindle, and the web-browser edition.
DIGITAL for $9.95! That's 60% off the standard print-subscription price.
PRINT for $19.95! Thats 20% off the standard print-subscription price.
or BOTH for $28.95! Our best deal for digital and print.
Current subscribers call 1-800-395-7760 and mention code RCRT14 to take advantage of these great savings!

2. SUBSCRIBE FROM iTUNES Download our app for your iPhone or iPad, and purchase a subscription.
iTunes annual subscription for $19.99.
iTunes monthly subscription for $1.99.