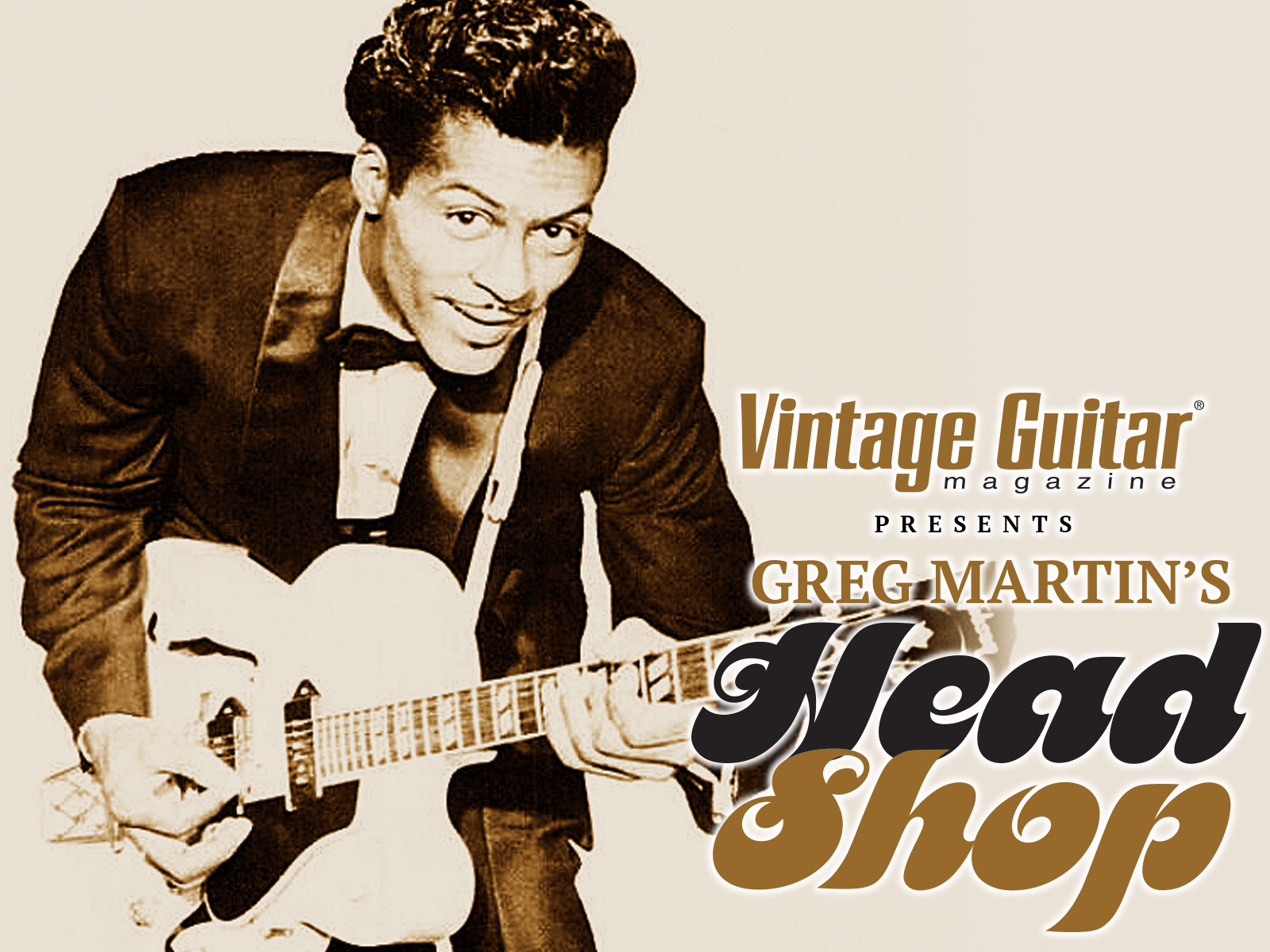 This is a regular series of exclusive Vintage Guitar online articles where The Kentucky Headhunters' Greg Martin looks back on influential albums and other musical moments.
---
We have lost the poet laureate of rock n' roll, Mr. Chuck Berry. The news came from St. Louis yesterday, March 18th, truly a sad day for music. As my friend, Billy F. Gibbons says, our world is truly evaporating.
Each of us has been touched by Chuck's music; we all have our own story. As a young man growing up in Louisville, Kentucky, I was lucky to have an older brother, who, along with a cousin that lived with us at the time, brought home the coolest records. I grew up on records by The Beatles, The Rolling Stones, The Yardbirds, Lonnie Mack, Travis Wammack, The Ventures, The Beach Boys, and Chuck Berry. One day I stumbled upon my brother's 45 of "Johnny B. Goode," with the flip side "Around & Around." Just hearing the intro to "Johnny B. Goode" sent a lightning bolt through my soul. If that intro doesn't touch you, something's wrong. As with any young guitarist growing up in the '60s, my rite of passage was first "Johnny B. Goode" and then on to The Beatles, The Stones, and later Eric Clapton, Jeff Beck, Jimi Hendrix and many others. But, on that fateful day when I first put "Johnny B. Goode" on the turntable, I was baptized in something that has stayed with me the rest of my life.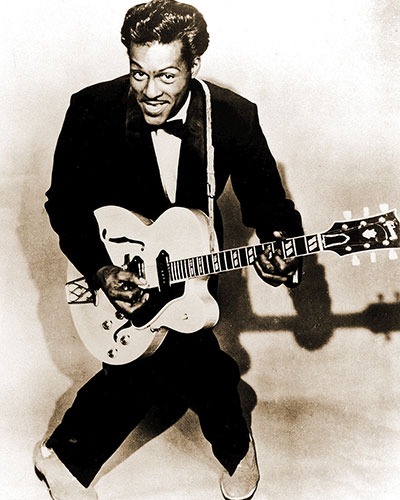 When "Johnny B. Goode" was released in 1958, I was living in a mixed neighborhood in Louisville. I was hearing Chuck Berry on Louisville rock radio stations WAKY and WKLO, but thanks to my African American neighbors, whose radios were often tuned to WLOU, the local R&B station, I was also hearing The Coasters, The Drifters, B.B. King, Little Richard, Lloyd Price, Ray Charles, Bo Diddley, and many other R&B artists. Combining that R&B musical education from the late '50s with my brother's record collection a few years later taught me that music was color blind. Music brings all of us together, no matter what nationality we are, or the color of our skin. Of course, Chuck Berry's music exemplifies that more than anything. Chuck successfully took black R&B and blues music, combine it with white country music, and give us something very special.
People have been arguing who invented rock n' roll for years. I will leave that to the music scholars of the world. In my mind, Chuck popularized and shaped the genre as we know it and he's one of the reasons I play guitar today. I am very lucky to play in a band that reveres and understands Chuck's music. My bandmates Richard, Fred, Doug and I made it a point to study his music in the early days of The Kentucky HeadHunters and he is a big influence on what we continue to do. Little did we know when we started The HeadHunters, we would one day cross paths with Chuck's right hand man, pianist Johnnie Johnson. History tells us Johnnie originally inspired "Johnny B. Goode" – Chuck and Johnnie were rock n' roll's first team. Studying Chuck's records prepared us to play and record with Johnnie Johnson in '92. We were lucky to record two CDs with Johnnie at that time – That'll Work, released in '93 and Meet Me In Bluesland, released on Alligator Records in 2015.
Today we mourn the loss of Chuck Berry, but his music, spirit and influence will live on. It's a good day to pull out his albums and celebrate his life and music. God gave us rock n' roll, Chuck was one of His messengers. Thank you, Chuck, for the lessons you taught us.
God bless,
Greg
---
Greg Martin is a founding member of the Grammy wining Kentucky HeadHunters. Greg has hosted 'The Lowdown Hoedown" radio show on WDNS-FM out of Bowling Green, KY for over fifteen years, where he's interviewed Billy F. Gibbons, Johnny Winter, Peter Frampton, Jim McCarty, Vince Gill, Brian Setzer, Marty Stuart, Jimmie Vaughan and more. Greg resides in south central Kentucky with his family and guitars.
---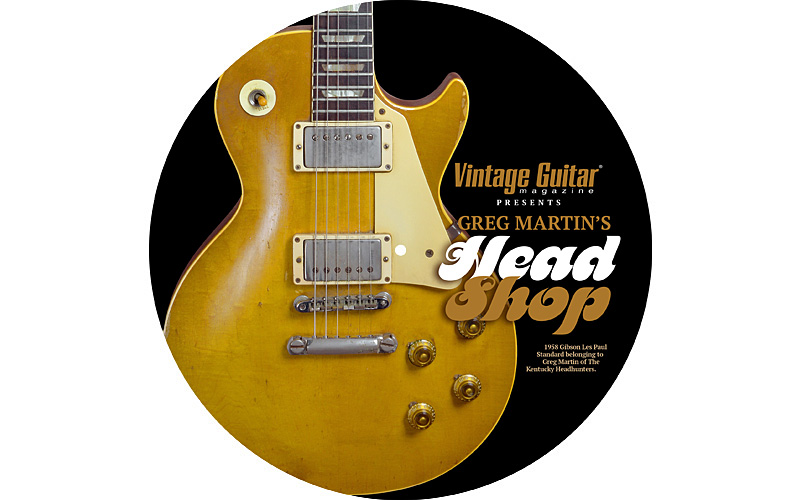 Enter and win one of 25 "Greg Martin's Head Shop" Turntable Slipmats!
To welcome Greg Martin's new series to the VG Family, we've printed up 25 custom turntable slipmats celebrating Greg's 1958 Gibson Les Paul Standard. These full color, 16-ounce felt slipmats have a glaze backing and will look great on your turntable or wall!
To enter the giveaway, just complete the survey below. One entry per customer, any double entries will be automatically disqualified.

---
*ELIGIBILITY. VOID WHERE PROHIBITED OR RESTRICTED BY LAW. NO PURCHASE NECESSARY.
One entry per customer. Winners will be drawn at random. Prizes are not transferable or assignable and they are not redeemable for cash. All winners outside the continental United States are responsible for shipping costs. All winners are responsible for the payment of any and all taxes and/or licenses and/or other related local, State, Federal fees that may apply to such winnings. Taxes on prizes are solely the responsibility of the winners. Vintage Guitar magazine reserves the right to replace the advertised prize(s) with a prize of equal or greater value if the advertised prize(s) is/are no longer available. Vintage Guitar reserves the right to identify winners in all VG media.
---