Though it got most of the looks in the family, Fender's Jazz Bass is nonetheless the tag-along younger brother to the Precision. Benefitting from the elder's success, it was designed in response to market demand for something with a brighter, more-aggressive tone. In the process, Fender also made it "sexier" via a streamlined silhouette, so it's little wonder the Jazz has drawn great reverence since its introduction in 1960.
One devotee of the Jazz Bass is Rush's Geddy Lee, who began using a '72 model after picking it up at a pawn shop in the mid '70s while on a tour stop in (of all places) Kalamazoo, Michigan. Content with his famed Rickenbacker 4001, the Jazz didn't accompany him to studio or stage until the recording of Moving Pictures, the epic 1980 disc that included "Tom Sawyer" and pushed the band into the mainstream while helping make Lee an influential player. Today, a "black-block" Jazz like his brings the better part of $5,000 on the collectible market.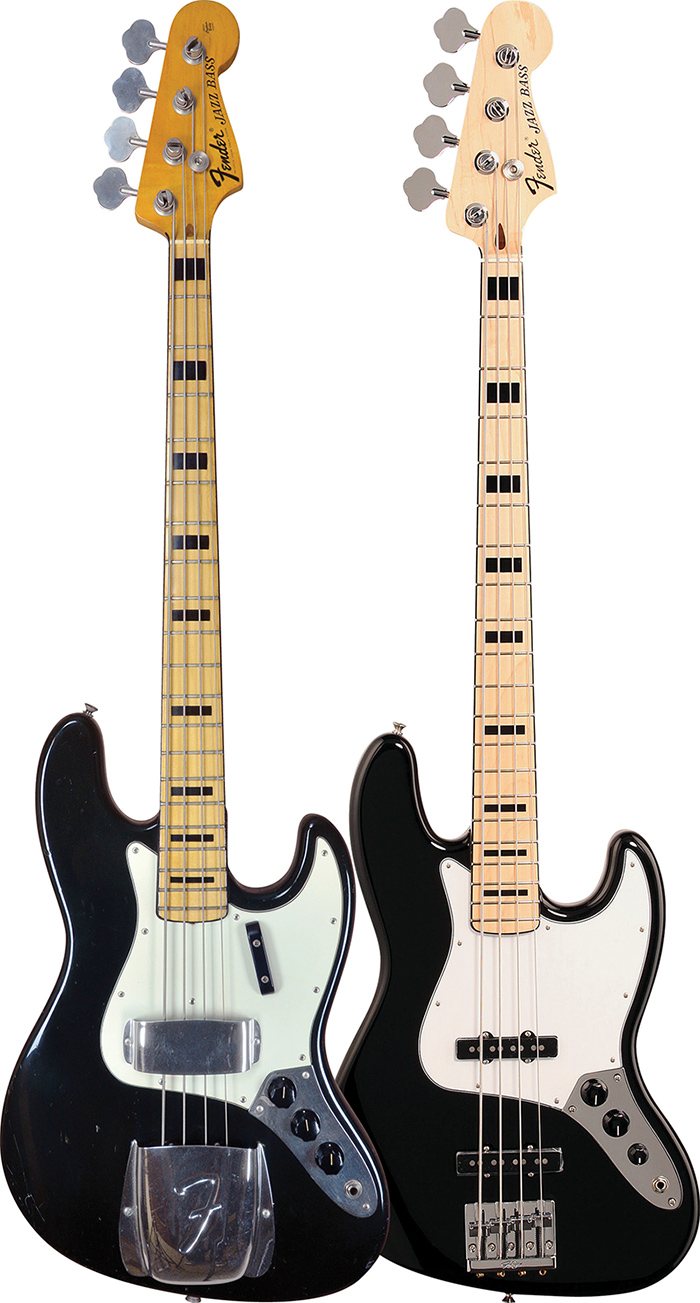 For those fond of the aesthetic or seeking to emulate one of their heroes (a lot of big-name players gravitated to the Jazz of that era) without having to loosen their grip on so many Loonies, Fender's Geddy Lee Artist Series Jazz Bass may fit the bill.
Offered in U.S. and imported versions with identical specs – alder body, one-piece maple neck, 9.5″-radius fingerboard with 20 medium jumbo frets, 1.49″ (38 mm) synthetic-bone nut, and 34″ scale – the import more closely mirrors the original thanks to its black celluloid binding and block inlays, American Vintage pickups, and '70s-style open-gear tuners. The domestic model, meanwhile, has a four-ply white-pearloid binding and pearloid fretboard markers on an oiled neck (per mods Lee later made to his personal instruments), a thicker custom neck profile, custom-voiced pickups, nickel/chrome hardware, and an upgraded/signature bridge.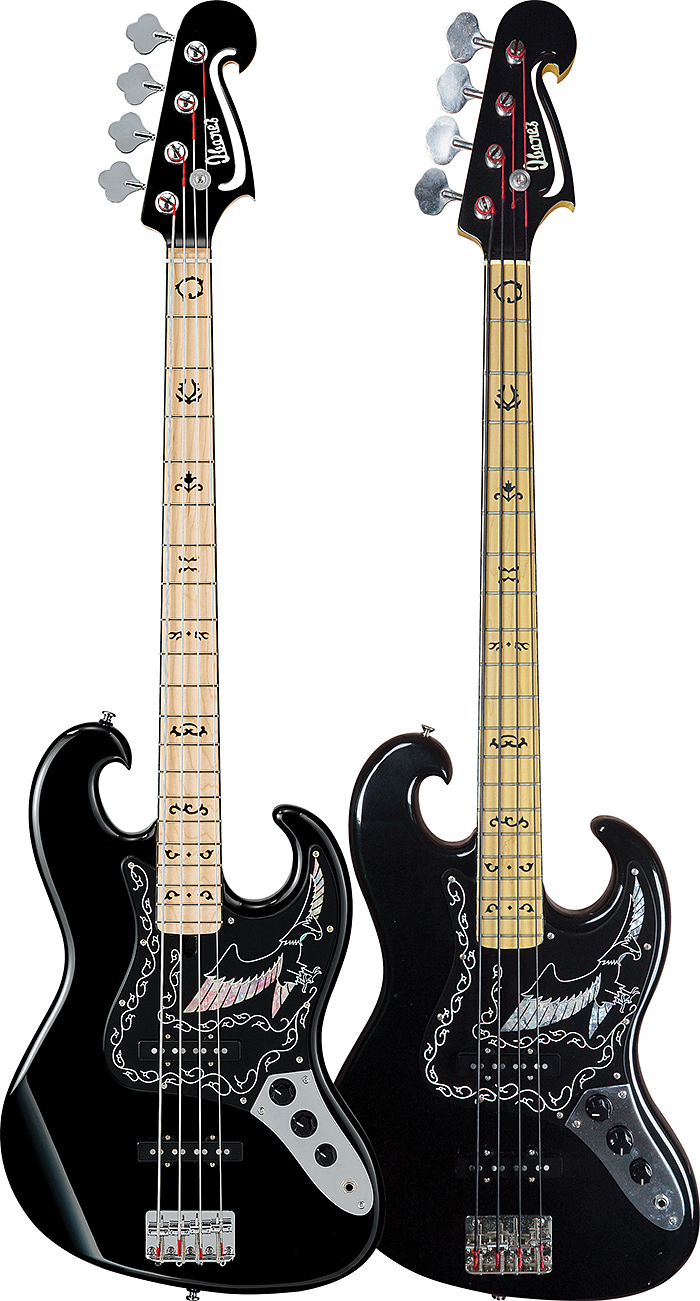 Given its truer-to-form status, we requested one of the imports for comparison with a real-deal '72 Jazz and – to spice things up – the Ibanez 40th Anniversary 2069B Black Eagle, which represents that company's most-collectible bass from the '70s and is a rare departure for a company that generally avoids reissues. The original is a hard-to-find darling among Ibanez collectors; introduced in 1975, it was a fancied-up version of the Jazz-inspired model 2376, but with not-so-subtle variances like pointed cutaway horns (looking very much like those employed by U.K. builder Burns), funky fret-position markers like those Ibanez used on its Artist model 591 FB banjo, and a pickguard with engravings that match the fretboard's inlays, along with a beautifully (and cleanly) executed abalone inlay highlighting the wingtips of an engraved eagle. Dressed fancy as all get-out but with a traditional pickup/control setup, the 2609B hit the market just as popular tastes shifted to favoring plainer natural finishes and the latest (active) electronics/pickups.
Time does wonderful things to well-maintained musical instruments, so A/B comparisons between vintage and new can be unfair; the neck on the '72 offered a sofa-comfy feel thanks to wear and the placebo effect of the tint in its finish. Also, the old fella weighed 8.75 pounds compared to the reissue's 9.25, and overall, its feel – whether in the transition from the neck to the back of the headstock or on its body contours – bears the nuances of hand-carving. Still, in terms of playability, the Artist Series held its own. While Mr. Lee himself came to prefer an oiled neck, the urethane finish on the import wasn't the least bit tacky (experiences vary based on body chemistry), and the fact its specs so closely mirror the '72 made it feel "right."
The 9.8-pound Ibanez has a mahogany body and laminate-maple neck with 34″ scale, but its nut is a slightly friendlier 1.61″ (41 mm) wide and made from plastic. It also has a 9.5″ fretboard radius, and all three use medium/medium jumbo frets; in terms of playability, they felt remarkably similar save for the more-pronounced radius (7.25″) on the '72. Also, their controls are wired identically – front knob is neck-pickup Volume, second is bridge-pickup Volume, and the smaller is master Tone.
The difference in their sound was easier to discern; plugged into an ohmmeter, Ibanez's Super J pickups each measured 8K, while the Geddy showed 7K per – very close to the original's 6.9. Head to head (to head) through an amp and 8×10 cab, with both pickups turned up full, the Black Eagle offered a stronger midrange push, perhaps thanks to the mahogany body, while the Geddy rendered the brighter, more-aggressive highs for which the model is famous. Low-end from both was satisfying – round, piano-like, and ready to dial to taste. The '72 did offer a more-open, "woody" tone – again, age is a blessed thing. The Volume and Tone controls all offered very similar roll-off character (for fun, the '72 added a touch of crackle!).
To measure their sustain, we timed the ring of an open A note from each by running them through a Focusrite preamp into a desktop workstation. Using an average attained after several plucks, the '72 Jazz rang for 18.1 seconds (on aged strings), while the Geddy Artist held its note 19.7 seconds, the Black Eagle for 17.9.
Whether your personal hero is a Jazz Bass player like Geddy Lee, Marcus Miller, or Jaco Pastorius, or if they're a Black Eagle thumper like the Commodores' Ron LaPread or Nirvana's Krist Novoselic (who is largely responsible for its status among collectors today), the looks, sounds, and vibe of both classic basses can be readily – and affordably – attained with either reissue.
---
This article originally appeared in VG April 2016 issue. All copyrights are by the author and Vintage Guitar magazine. Unauthorized replication or use is strictly prohibited.
---