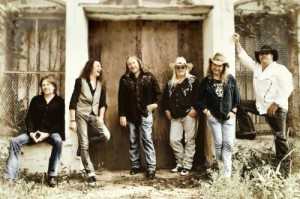 The Marshall Tucker Band is seeking donations for items to be delivered to victims of Hurricane Sandy. In Spartanburg, South Carolina, the Southern-rock group will dispatch its tour truck tomorrow to collect donations that will be transported to hurricane victims; the truck will be stationed outside of the Spartanburg Memorial Auditorium from 4:30 to 7:30 p.m. Additional trucks are in the works to collect donations in Anderson and Chesnee, South Carolina.
"People in that part of the country have supported The Marshall Tucker Band for over 40 years," said singer Doug Gray. "We've made a lot of friends up there, have watched people's families grow and have grown with them. So, on a personal level, I know a lot of their pain. Palmetto Sound Works has been kind enough to help the victims. They'll also be sending several trucks. One wonderful couple from New Port Richey, Florida, has donated 4,000 blankets."
The band asks that people not bring cash donations. "If you want to contribute cash, please contact the American Red Cross," he said. "We're primarily looking to collect coats and blankets, since it's starting to get cold up there." For more info, visit marshalltucker.com.