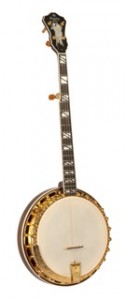 Recording King will unveil its USA Custom Shop, producing collector's banjos handmade in the USA and available through The Music Link.
Designed, conceived, and hand-engraved by former Gibson Banjo Custom Shop head Greg Rich, Recording King USA Custom Shop banjos continue the tradition using craftsmen from that era. Each banjo is a singular  piece, with each of the limited edition models being truly custom, with none of the details repeated in future models.
The Avalon is the current Custom Shop model. It has a curly maple neck with a radiused ebony fingerboard, deco block inlays, and hand inlaid headstock pearlwork. It is assembled with classic American-made 24K gold-plated top tension hardware  and has a hand-carved maple resonator back. It is powered by a Recording King Mastertone-style tone ring, and a hand-turned, hand fit 3-ply maple rim.
Learn more online at: recordingking.com